tidylda
Latent Dirichlet Allocation Using 'tidyverse' Conventions
tidylda implements an algorithm for Latent Dirichlet Allocation using style conventions from the tidyverse and tidymodels.
In addition this implementation of LDA allows you to:
use asymmetric prior parameters alpha and eta
use a matrix prior parameter, eta, to seed topics into a model
use a previously-trained model as a prior for a new model
apply LDA in a transfer-learning paradigm, updating a model's parameters with additional data (or additional iterations)
Note that the seeding of topics and transfer learning are experimental for now. They are almost-surely useful but their behaviors have not been optimized or well-studied. Caveat emptor!
Installation
You can install the development version from GitHub with:
Getting started
This package is still in its early stages of development. However, some basic functionality is below. Here, we will use the tidytext package to create a document term matrix, fit a topic model, predict topics of unseen documents, and update the model with those new documents.
tidylda uses the following naming conventions for topic models:
theta is a matrix whose rows are distributions of topics over documents, or P(topic|document)
beta is a matrix whose rows are distributions of tokens over topics, or P(token|topic)
lambda is a matrix whose rows are distributions of topics over tokens, or P(topic|token) lambda is useful for making predictions with a computationally-simple and efficient dot product and it may be interesting to analyze in its own right.
alpha is the prior that tunes theta
eta is the prior that tunes beta
Example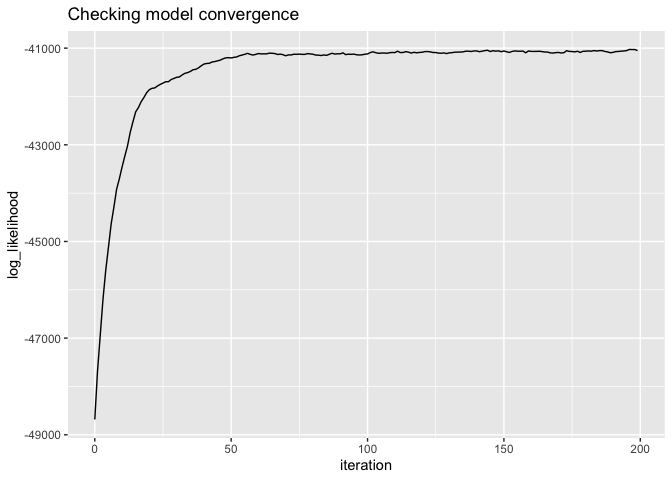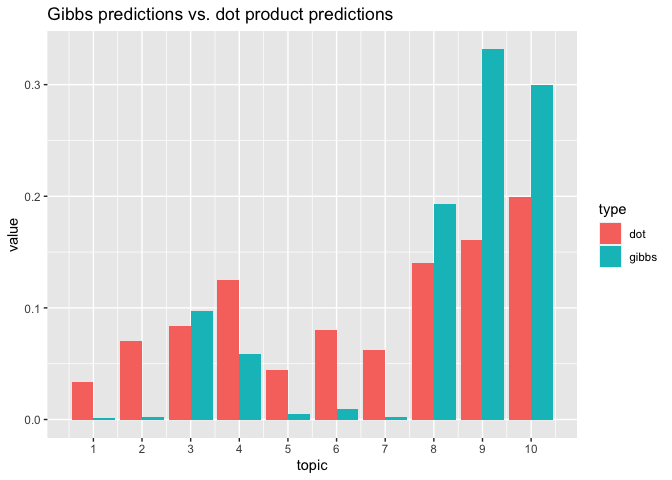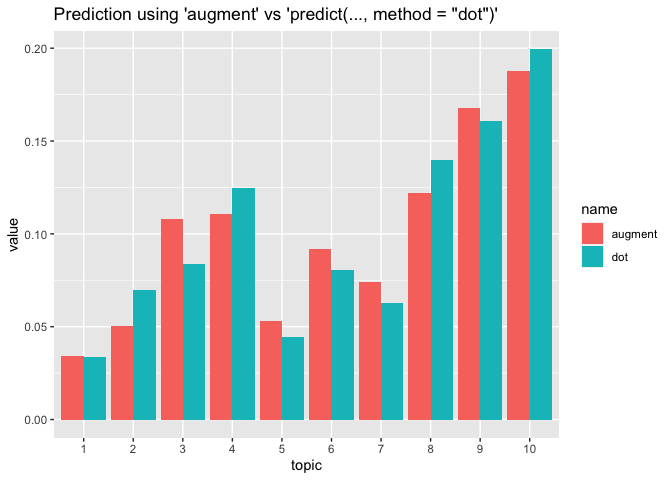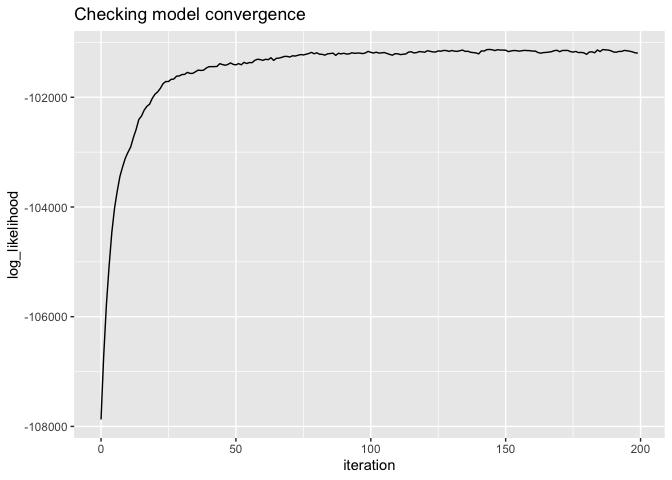 I plan to have more analyses and a fuller accounting of the options of the various functions when I write the vignettes.
See the "Issues" tab on GitHub to see planned features as well as bug fixes.
If you have any suggestions for additional functionality, changes to functionality, changes to arguments or other aspects of the API please let me know by opening an issue on GitHub or sending me an email: jones.thos.w at gmail.com.